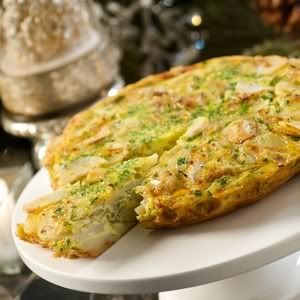 Ingredients
1/4 cup extra virgin olive oil
1 pound red or white potatoes, waxy
Salt, to taste
Black pepper, ground, to taste
1 yellow onion, medium, sliced
1/2 teaspoon garlic, minced
4 eggs, large
1 tablespoon parsley, minced

Preparation
1Pre-heat oven to 375°F.

2Heat two tablespoons olive oil over medium heat in an 8″ ovenproof skillet (preferably non-stick). Add sliced potato and season generously with salt and pepper. Cook potatoes, turning gently, until softened but not browned, approximately 20 minutes. Remove from pan and reserve.

3Add remaining oil and onion. Cook, stirring occasionally, until soft, approximately 10 minutes. Add garlic to onions and cook 2-3 minutes, until softened and aromatic. Return potatoes to skillet, gently stir to combine, and cook an additional 5 minutes.

4Reduce heat to low. Beat eggs with the parsley. Pour eggs into skillet over vegetables and shake the pan to evenly distribute the eggs. Cook, without stirring, for 5 minutes. Transfer to oven and cook 10 minutes, or until egg is set.

5Cool to room temperature. Remove from pan and cut into 12 thin wedges or squares.
Additional Info
Copyright 2008. The Food Channel®. All Rights Reserved. For permission to use in a printed cookbook or commercial website, please contact
Editor
.